NEW PLANTS:
DEATHS OF PLANTS:
Not completely 😐 …. I pulled out the strawberry spinach – One, because it was dying – And two, because it was over grown and it didn't like the strawberries (that was all that was left on the plant).
 
TODAY'S DEFINITION:
Abundant – Available in large quantities; plentiful.
WHY:
(IN 4 WORDS OR LESS)
SO… MANY… CUCUMBER… LEMONS…

I have edible things!

Overflowing!!!
REVIEWS:
OVERALL STARS – ************* (13 STARS)
DIRTINESS (while gardening)  –  ***** (5 stars) = I got lots of dirt everywhere when I pulled out the strawberry spinach (especially in my hair)!
BUDDING  – ***** (5 stars) = There are a bunch of mini bell peppers (that are almost ripe), HUGE cucumber lemons, slightly bushier lavender, a bunch of edamame, and sugar plant leaves (which are gross)!
GROWTH  –  *** (3 stars)  = Everything is growing but, getting               sun-burnt 🙁 …
DO'S

 AND 

DON'TS:
DO: Pick you vegetables before you leave on a trip in case  your brother and father don't pick ripe food from the GARDEN when you are gone!
DON'T: Plant sugar plants!

DO: WATER YOUR PLANTS EXTRA WHEN ITS 110° OUTSIDE!
THE News:
Cucumber Lemon:
Strawberry Spinach:
I didn't like the taste of the strawberries and the spinach was almost dead so I decided to pull it out! Also, it was strangling the lavender, edamame, and the sugar plant.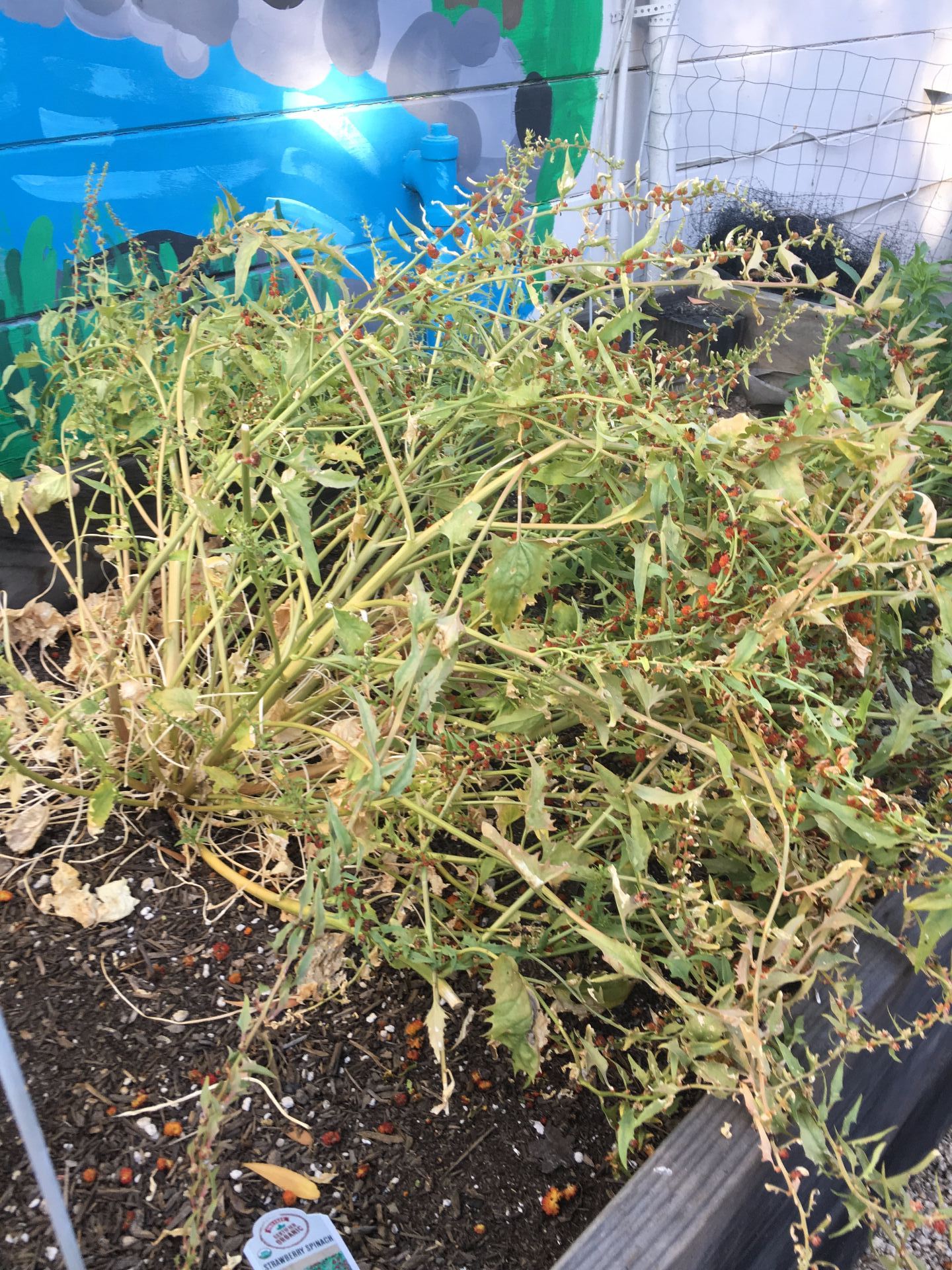 Bell Peppers:
I just found out that they are mini bell peppers…
That explains why they are so small!
Cucumber lemon Recipes!
Cucumber lemons are a very unique ingredient! There is nothing else exactly like them. Not a lemon, even though it looks like a giant one. Not a cucumber, because of the slightly acidic taste! They are a perfect addition to a dish because they add a lemony taste, and a brightness to that wasn't there before. Surprisingly, there is a site full of cucumber lemon recipes, especially since they are so rare!
Cucumber Lemonade:
Since everyone loves lemonade, this would be a perfect recipe! The
lemonade was sour, but refreshing;  like no other lemonade I've had. For some reason it felt like it should be chewed even thought it was a drink (I'm not sure why). Also, (this might sound funny) it had a twang, and tasted better with time and mint to top it off!
i
hhhhhhhhhhhhhhhhhhhhhhhhhhhh
Cucumber Lemon tofu salad:
Tofu, is a vegetarian go-to for protein! So this was a perfect way to incorporate cucumber lemons into a dish! The cucumber lemon is a little more acidic than a normal cucumber, so the salad was very lemony. Also, the recipe called for a lot of dill and olive oil. It was yummy, a "true summer dish"!
All these dishes are super fresh, light, and highlight the cucumber lemon!
PICTURES!: