In 2 days I will be turning 11 but for now, I'm still 10 years old. This year I have had lots of happy things happen and some sad things too. You can't have good days without having bad ones to go along with them. Some of the exciting things that happened this year for me were:
Getting our horse named Oliver

Going to Italy for the first time ever (I finally got to go after many years of pleading)

Starting the process to become a non-profit for our dog rescue; Pawfect Endings
We got Oliver in February of last year. He was named Oliver but, his show name (the name they will say for your horse when you are in a 
horse show) was Oliver Twist. We thought that was a little too depressing so we changed his show name to *Fly by Night* after one of my Dad's favorite songs.  We have worked on being able to ride without being scared when we jump or make a circle.  Now, we are jumping everywhere and over everything with him after working that problem out (that took months).
When we went to Italy with my Aunt and Uncle and my family (Marco, Mom, Dad, and Me) – it was amazing! The food, the streets, the hikes, the Milan 2015 Expo, and Lake Como – all of it was incredible! The food we ate was always delicious; the smell of pizza and pasta wafted from restaurant to restaurant, on each equally bumpy and curvy little streets.
The Milan 2015 Expo (aka the World Fair) was focusing on "Feeding the World" last year. Each country had a pavilion where there would be signs, models, and sometimes people talking about how their country is feeding themselves. It was jam-packed with people, so we went mostly
to the smaller countries' pavilions. Once we got there early in the morning and waited over 45 minutes to get in Brazil's pavilion.
After a few days in Milan we went to Lake Como. We stayed in a very fancy hotel on the lake. When we w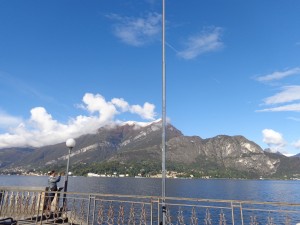 ere not hiking and exploring the beautiful landscape, we were eating fabulous food. One of my favorite parts was when we took the car ferry over to a smaller island, explored and then sat down for a memorable lunch, full of truffles (chocolate and mushroom ones) for me!
Now we have just started becoming a non-profit for our animal rescue; Pawfect Endings. We still have a ton to do to get started, but I can't wait until it's all finished. This has been my dream for years and years.
Now, I can't wait to see what I'll being doing this new year!

All pictures taken by Anna.